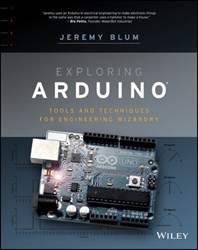 Indianapolis, IN (PRWEB) August 22, 2013
John Wiley and Sons, Inc., today announced the publication of Exploring Arduino: Tools and Techniques for Engineering Wizardry (Wiley, 978-1-118-54936-0, August 2013, US $ 34.99) by Arduino expert author Jeremy Blum. Exploring Arduino uses the popular Arduino microcontroller platform as an instrument to teach topics in electrical engineering, programming, and human-computer interaction.
In addition to specific projects, the book shares best practices in programming and design that readers can apply to any project, as well as code snippets and schematics that will serve as useful references for future projects, even after mastering all the topics in the book. Exploring Arduino features:

????Projects that utilize different capabilities of the Arduino, while interfacing with external hardware
????Chapters that build upon each other, tying in concepts from previous chapters to illustrate new ones
????Arduino aspects that are accompanied by video tutorials and other multimedia content
????Electrical engineering and programming concepts, interfacing with the world through analog and digital sensors, communicating with a computer and other devices, and internet connectivity
????How to combine smaller topics into more complex projects
????Downloadable materials and source code for everything covered in the book
Exploring Arduino: Tools and Techniques for Engineering Wizardry is now available for purchase online and at retailers worldwide in both print and all e-book formats. For a list of retailers, visit http://www.wiley.com/buy/9781118549360 . For additional information about the book or author, visit http://www.exploringarduino.com.


About Wiley
Wiley is a global provider of content-enabled solutions that improve outcomes in research, education, and professional practice. Wileys Professional Development business creates products and services that help customers become more effective in the workplace and achieve career success. It brings to life the ideas and best practices of thought leaders in business, finance, accounting, workplace learning, management, leadership, technology, behavioral health, engineering/architecture, and education to serve these communities worldwide.
Founded in 1807, John Wiley & Sons, Inc. (NYSE: JWa, JWb), has been a valued source of information and understanding for more than 200 years, helping people around the world meet their needs and fulfill their aspirations. Wiley and its acquired companies have published the works of more than 450 Nobel laureates in all categories: Literature, Economics, Physiology or Medicine, Physics, Chemistry, and Peace. Wiley's global headquarters are located in Hoboken, New Jersey, with operations in the U.S., Europe, Asia, Canada, and Australia. The Company's website can be accessed at http://www.wiley.com.


###
Related Ebooks Online Press Releases