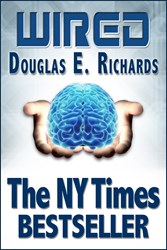 New York, New York (PRWEB) August 23, 2013
The riveting biotech thriller, WIRED, by Douglas E. Richards, a New York Times and USA Today bestseller, was Amazon's #1 novel in two major categoriesscience fiction and technothrillersan unprecedented achievement. Now, to celebrate the launch of Richards's new thriller, THE CURE, the eBook version of WIRED will be free on Amazon on August 23rd, 24th, and 25th. LINK TO FREE COPY
THE CURE will be launched as a hardcover and eBook on September 17th by Tor/Forge and can be preordered now. In THE CURE, Erin Palmer suffers through a devastating encounter with a psychopath as a young girl. Now a grad student and scientist , shes devoting her life to studying these monsters. When her research catches the attention of Hugh Raborn, a brilliant neuroscientist who claims to have isolated the genes responsible for psychopathic behavior, Erin realizes it may be possible to reverse this condition, restoring souls to psychopaths. But to do so, shell not only have to operate outside of the law but violate her most cherished ethical principles.
Psychopaths seem to be at epidemic levels. THE CURE provides an eye-opening look at what is known about psychopathy within an intriguing, explosive, roller-coaster-ride of a novel that will keep both thriller fans and science fiction fans reading deep into the night.
Richards is a tremendous new talent. The Cure is an extraordinarily good novel that will keep you riveted . . . and thinking.

Stephen Coonts, 17-time New York Times bestselling author of Pirate Alley
The Cure will keep you turning the pages all night long.

Douglas Preston, #1 New York Times bestselling author of Impact
The Cure will be released on Sept 17th and will be available everywhere books are sold.