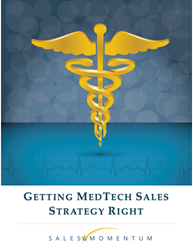 Scottsdale, AZ (PRWEB) June 17, 2014
Getting MedTech Sales Strategy Right, a free white paper from Sales Momentum, is now available on Kindle and in iTunes.
Getting MedTech Sales Strategy Right is now available on Kindle and in iTunes formats. This white paper highlights best practices for formulating and executing MedTech sales strategy in hospitals, hospital systems, ACOs, physician practices, and standalone centers to help MedTech companies drive revenue.
Today a MedTech sales force not only must sell a competitive advantage, they must be a competitive advantage and that requires the ability to think and act strategically.
Getting sales strategy right is never easy; getting it right in a market that is undergoing transformation change is even more challenging. Thats why we wrote Getting Medtech Sales Strategy Right
With aging Baby Boomers, unmet medical needs and increasing incidences of lifestyle diseases such as cardiovascular disease, hypertension, obesity, and diabetes the MedTech industry is positioned to grow in the coming years, according to Janet Spirer, Ph.D., a Co-founder of Sales Momentum.
She continues, however, noting that: All is not rosy. For hospitals, hospital systems, Accountable Care Organizations, standalone medical centers, and physician practices what they buy, how they buy, and what they are willing to pay for it is all changing.

This white paper contains best practices MedTech salespeople may put to use right away on formulating and executing their sales strategy in this transformational environment. Some topics covered are:


????Selling with clinical data
????Selling to the VAC
????Managing the competition
????Understanding the buying process
????Understanding the decision criteria
????Networking
????Developing and rehearsing internal champions
????Building and sustaining relationships
To find out more and to download the ebook (in pdf, iTunes, or Kindle formats), visit http://www.salesmomentum.com/getting-medtech-sales-strategy-right-free-white-paper/
______________

About Sales Momentum, LLC partners with companies engaged in major B2B sales to provide sales training experiences that make a difference. The company specializes in customized sales simulations, on-line sales training, and sales coaching initiatives.

For more than 30 years Richard Ruff and Janet Spirer have worked with the Fortune 1000 to craft sales training programs that make a difference. Richard and Janet co-authored Parlez-Vous Business, to help sales people have smart business conversations with customers and are co-founders of the Sales Training Connection blog. Richard co-authored Managing Major Account Sales and Getting Partnering Right.
Contact

Janet Spirer, Ph.D.

Principal, Sales Momentum

9280 E. Thompson Peak Parkway – Suite 36

Scottsdale, AZ 85255

Tel: 480-513-0900

jspirer(at)salesmomentum(dot)com

Web: http://www.salesmomentum.com

Web: http://www.salestrainingconnection.com