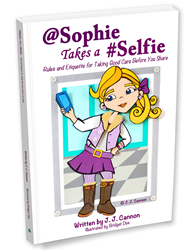 Santa Barbara, CA (PRWEB) March 19, 2014
All Stages Marketing, headquartered in Santa Barbara, CA, congratulates its long-time creative agency team member Jennifer J. J. Cannon, writer and social media professional, who has just published her first book, @Sophie Takes a #Selfie Rules and Etiquette For Taking Good Care Before You Share (Telemachus Press), a timely guide to accompany the newly accepted word and common practice of taking a selfie. Fascinated by the challenges of the not quite emotionally mature 8-10 year old socially active set and appalled by what many young women are posting online, Cannon has written a timely and relevant guide for parents, educators, and girls of all ages who are in search of definitive guidelines for what constitutes appropriate online behavior.
Sophie symbolizes every young girl, tween and teen (maybe even Mom, Dad or Grandma) in possession of a smart device, which Cannon likens to a stick of dynamite if used without proper guidance or self-control. In the book, the whole wide world opens up to Sophie who can now be in constant communication with friends and share anything in an instant on her favorite social media sitebut the question is, should she?
The early editorial reviews for this first-time author are impressive, and include ABCs Shark Tank investor (and mom) Barbara Corcoran, as well as New York Times bestselling author, John Locke.
"J. J. Cannon has written a cute and clever book that's chock full of social media etiquette tips. @Sophie Takes a #Selfie brings timeless parenting advice into crisp focus for the digital generation!" — BARBARA CORCORAN, ABCs SharkTank
"Highly recommended for today's digital generation. Thoughtful and insightful- a must read for parents, the sooner the better. Well done J. J.!" — JOHN LOCKE, New York Times Bestselling Author, First Self-Published Author to Sell 1 Million eBooks on Amazon Kindle
Written with her own young daughters in mind, Cannon gives us the, #SweetSixteen, a set of thoughtfully written Rules with a touch of humor, starting with #Keep It Classy. This first rule encourages young people to consider the many alternatives to overused, less than lady-like acronyms. All of this LMFAO and OMFG-ing is worn out, she writes. Cannon also laments that the letter F is being needlessly dragged through the mud. The adorable illustration accompanying this rule is My Fair Sophie, a nod to Audrey Hepburn in My Fair Lady. #Be Kind is a guideline that asks readers to refrain from using, liking, or sharing hate speak of any kind and includes suggestions about what to do if you see it. #Beware the Over-Share lesson asks young people to think about the kind of digital footprint they want to leave behind and to consider future colleges and/or bosses who will likely do an Internet search first and ask questions later. A recent Huffington Post article noted that 80% of employers actually Google job seekers before qualifying individuals for an invitation to an interview.
The overall message throughout the uniquely named, positive reinforcing rules like, #Take 5, #Worry Not, #Practice Perception, #Be Queen Bee, #Find Your Balance, #Protect Your Privacy, and others, is to STOP and THINK before you react to anything online. @Sophie Takes A #Selfie is about developing a sense of self-love, self-respect, and self-worth.
In the book, available now on Amazon as both an eBook and as a paperback, Sophie learns the proper etiquette for sharing, reposting, or tagging photos or artwork without permission, along with the age old, still relevant, if you cant say something nice piece of advice and stresses that it is not ever, under any circumstance whatsoever, necessary to tell someone that he or she is ugly. You should just go kill yourself, is an example comment Cannon refers to, with tragic scenarios where young people actually have committed suicide as a result of online bullying, a sad occurrence Cannon wants to help prevent.
All Stages Marketing CEO and Senior Brand Strategist, Amber Sims Hinterplattner, commented, This meaningful book for parents, grandparents and their children is an important prompt for starting conversations that NEED to happen. Sims Hinterplattner added, With so much access today as well as permanence for much of what gets posted on the Internet, this kind of valuable information fills a big need – and just in time as technology gets even more pervasive and connected to our daily lives. As a very early adopter of social media tools as a professional marketer and as an adjunct professor of social network marketing, I've seen the good, the bad, and the I can't believe someone posted that online. As an educator and new parent, I have vowed to teach not only my students, but my own child as well, with the lessons from this book leading the way.
@Sophie Takes a #Selfie also includes some eye-opening social statistics and invites readers to continue the conversation with Cannon on the books website, http://www.SophieTakesaSelfie.com. She shares current information pertaining to kids and social media and offers visitors who are in a sticky social situation an opportunity to,