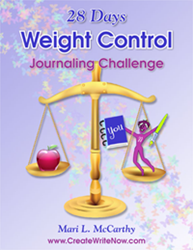 Boston, MA (PRWEB) January 22, 2014
The launch of CreateWriteNows 28 Days Weight Control Journaling Challenge is scheduled for Saturday, February 1st, 2014.
Developed by Mari L. McCarthy, journaling therapy specialist and founder of CreateWriteNow, the 28 Days Weight Control Journaling Challenge follows in the footsteps of the companys most successful program, 27 Days to Health & Happiness, a similarly structured offering that achieved record participation this year.
The Weight Control Journaling Challenge is a 28-day program that provides daily journaling exercises in an eWorkbook format that lets participants explore their motivations, face their demons, and tackle obstacles to weight loss in a positive, structured format, with well-thought-out suggestions, tips and encouragement for achieving steady, incremental improvement.
Said Mari, "Weve found the right mix of off-line journaling exercises and on-line support. Exercises are completed in private, so participants can feel comfortable taking the leap into self-exploration and self-discoverywithout any pressure to share details that are personal. But at the same time, having the on-line group keeps everyone motivated and on-trackand provides a real support mechanism for our participants."
Added Mari, "Facing struggles like weight lossor any other personal battle for that mattercan be really challenging. We want to make sure participants know you are not alone!"
The 28 Days Weight Control Journaling Challenge is being offered free of charge to participants. The related eWorkbook will need to be purchased and is available in multiple formats. An eBook is available at the CreateWriteNow store (http://store.createwritenow.com) and can also be purchased as an audio book, an email course or as a download for Kindle, iPad, NOOK and Sony Reader.
About CreateWriteNow
CreateWriteNow teaches individuals how to use the power of daily journaling to achieve self-discovery, personal transformation and perfect health. Founded by Mari McCarthy, who has used the power of daily journaling herself to overcome many of the debilitating effects of Multiple Sclerosis, the company publishes regular articles, journaling prompts, videos and eBooks and holds a number of interactive journaling challenges throughout the year.
Learn more about the 28 Days Weight Control Journaling Challenge here: http://www.createwritenow.com/28-days-weight-control-journaling-challenge/.
Learn more at http://www.createwritenow.com.